Shrines and Temples

Come into contact with Japan's history and culture by exploring representative shrines and temples of Osaka.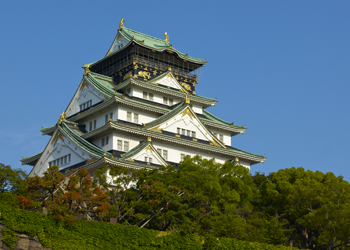 Osaka Castle
Work on Osaka Castle was begun on the ruins of Osaka (also "Ishiyama") Honganji Temple, in 1583 by Hideyoshi Toyotomi, one of the "Three Heroes". The castle was burned down and rebuilt many times, and the present keep was built in 1931 using contributions from citizens.
The 8th floor is an observation deck from which the whole of Osaka can be seen.
| | |
| --- | --- |
| Address | 1-1 Osaka-jo, Chuo-ku, Osaka-shi, Osaka |
| Opening hours | 9:00 to 17:00 (Last admissions 16:30) |
| Holidays | From December 28th to January 1st of the following year |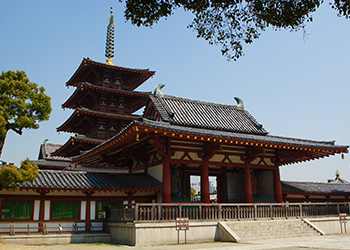 Shitennoji Temple
Said to have been erected by Prince Shotoku as a shrine to the Shitenno, or Four Heavenly Kings, some 1400 years ago in 593, (the first year of the reign of the Empress Suiko), this was the first full-scale Buddhist temple in Japan. The Rokuji-Raisan-do Hall, Gansan-Daishi-do Hall, Honbo Nishi Side Gate, Gochi Koin and Hojo (abbot's quarters) located on the north side of the precincts are designated Important Cultural Properties of the nation. The precincts occupy a total area of approximately 109,090 square meters, and include a "Taishi-den" dedicated to Prince Shotoku. ("Taishi" roughly means "Crown Prince".)

Address
1-11-18 Shitennoji, Tennoji-ku, Osaka-shi, Osaka
Opening hours
April to September 8:30 to 16:30 Open until 17:00 on the 21st /
22nd of every month
October to March 8:30 to 16:00 Open until 16:30 on the 21st / 22nd of every month
Rokuji-do 8:30 to 18:00 Open from 8:00 on the 21st / 22nd of every month
Honbo Garden 9:00 to 16:00
Holidays
Open all year round (Closed temporarily from May 1st to June 10th 2014)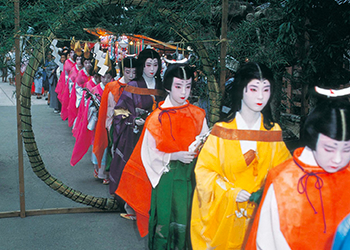 Sumiyoshi Taisha
This deeply historic sacred place is ranked as "Ichi no Miya" ("The First Shrine") in Settsu Province, and is moreover the head shrine of more than 2300 Sumiyoshi shrines around the country. Each year on New Year's Day and in the short period which follows, the shrine welcomes more than 2 million people, who come to observe the tradition of "hatsumode" (that is, to make their first shrine visit of the new year). Every 20 years sees the practice of Sengu, a ceremonial rebuilding the Honden (main shrine building), and on May 12th 2011, a large festival with many events was held to celebrate the 1800th anniversary of the first enshrining.

Address
2-9-89 Sumiyoshi, Sumiyoshi-ku, Osaka-shi, Osaka
Opening hours
April to September 6:00 to 17:00
October to March 6:30 to 17:00
Prayer reception and conferment 9:00 to 16:30
Holidays
Open all year round
Factory Visits

Seeing is believing. How about exploring the roots of world-class Japanese products?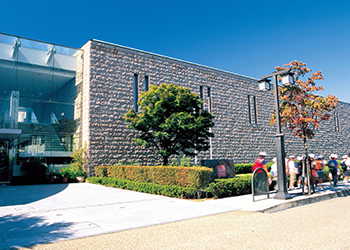 The Instant Ramen Museum
An interactive food museum where you can learn about the magic of invention and discovery through the history of instant ramen. Popular attractions within the museum include the "Chicken Ramen Factory", where visitors can have a go at making chicken ramen by hand, and "My Cup Noodle Factory", where you can make ramen with your own choices of soup and toppings. There is also a recreation of the little research shed where Momofuku Ando invented chicken ramen, the world's first instant ramen.
| | |
| --- | --- |
| Address | 8-25 Masumi-cho, Ikeda-shi, Osaka |
| Opening hours | 9:30 to 16:00 (Last admissions 15:30) |
| Holidays | Every Tuesday (the following day if Tuesday is a public holiday), Year-end and New Year holiday |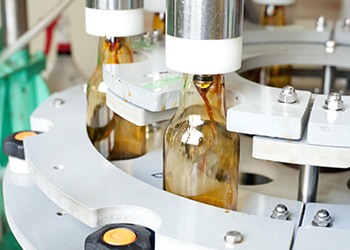 Asahi Breweries
Visitors to Suita Factory, the birthplace of Asahi Beer, can see the facility, which has more than 120 years of history, as it was when it first went into operation in 1891.
Participants in one of the free factory-viewing courses (reservation required) can experience every stage of the process from the preparation of the raw ingredients to the adding of malt, hops and so on, and of course get to have a taste of freshly-made beer.
| | |
| --- | --- |
| Address | 1-45 Nishinosho-cho, Suita-shi, Osaka |
| Reception for factory tours | 9:30 to 15:00 |
| Holidays | Year-end and New Year holiday, designated holidays |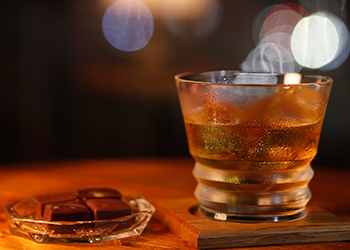 Suntory
The hometown of Japanese whiskey, Suntory Yamazaki Distillery has been making whiskey suited to the palates of the Japanese people since first opening in 1923. On a factory tour, not only do guests get a guided tour on which they can learn all about the malt whiskey process, but (for additional charges) they can also see various presentations in which they can get to know more about the whiskey maker's craft, whiskey's hidden depths, and more.
There is also a tasting counter where visitors can try unblended whiskeys and rare whiskeys.
Address
5-2-1 Yamazaki, Shimamoto-cho, Mishima-gun, Osaka
Opening hours
Guided tour hours 10:00 to 15:00 (Every hour / Last departure 15:00)
Opening hours 10:00 to 16:45 (Last admissions 16:00)
Holidays
Year-end and New Year holiday, factory holidays (Sometimes closed for special circumstances)
Theme Parks

Theme parks you don't want to miss, and will never forget. Keep an eye out for seasonal events, too.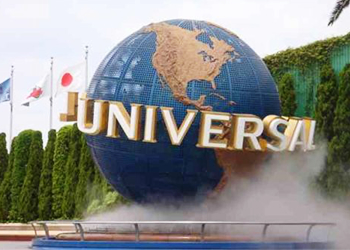 Universal Studios Japan
A thrilling theme park with the theme of Hollywood blockbusters.
With a wide range of attractions, character shows and more, the park is lots of fun for adults and children alike.
"The Wizarding World of Harry Potter", a new area which recreates the world of the popular "Harry Potter" movie series, opened in July 2014.

| | |
| --- | --- |
| Address | 2-1-33 Sakurajima, Konohana-ku, Osaka-shi, Osaka |
| Opening hours | -- |
| Holidays | -- |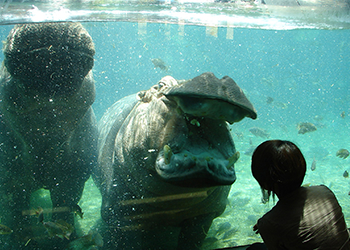 Tennoji Zoo
Opened in 1915, this is the 3rd-oldest zoo in Japan.
The zoo currently occupies 11 hectares, and is home to 900 animals representing 200 species.
At feeding time you can see the animals excitedly eating, and the "Seitaiteki Tenji" areas recreate habitats in the wild and give a real sense of the lives of the animals who live in them.

Address
1-108 Chausuyama-cho, Tennoji-ku, Osaka-shi, Osaka
Opening hours
9:30 to 17:00 (Last admissions 16:00)
(Open until 18:00, last admissions 17:00 on Saturdays, Sundays and public holidays in May and September)
Holidays
Every Monday (the following day if Monday is a public holiday)
Year-end (December 29th to December 31st)
(Temporary opening days for FY2014: April 28th 2014, August 11th 2014, January 1st 2015, March 30th 2015)
Shopping

Osaka, Shopping Heaven. With fashion, gourmet dining and more, you can satisfy every shopping need.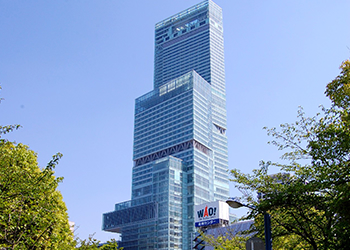 Abeno Harukas
With 60 floors above ground, at 300 meters this is Japan's tallest high-rise building, and after Tokyo Sky Tree (634 meters) and Tokyo Tower (332.6 meters) is the third highest structure of any kind in the country.
With a store design themed around "a place like a town", Abeno Harukas Kintetsu Main Store offers top brands, restaurants where children and their families can learn about food while having fun, and more. Visitors can take their time exploring the spacious levels.

Address
1-1-43 Abeno-suji, Abeno-ku, Osaka-shi, Osaka
Opening hours
10:00 to 20:00
All floors from Basement 2nd Floor to 2nd Floor open until 20:30 on Fridays and Saturdays
Abeno Harukas Dining 10:00 to 23:00
Basement 2nd Floor Abeno Shijo Shokudo 10:00 to 22:00
Holidays
Unscheduled holidays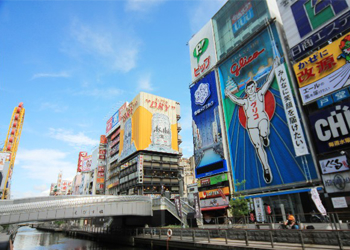 Dotonbori
Dotonbori, symbolized by its Kani Douraku, Glico and other billboards, is the liveliest entertainment district in Osaka.
In this eat-till-you-drop town, we recommend feasting on the takoyaki, okonomiyaki and other batter-based foods, then feasting your eyes on the sights of Osaka Minami while taking a slow stroll down the "Tonbori River Walk".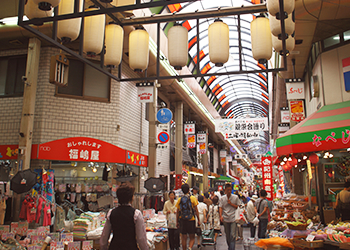 Kuromon Market
Kuromon Market is well known as a treasure trove of food to rank with Osaka Central Wholesale Market. Around 180 shops are lined up along a stretch of around 580 meters, and besides fresh fish, you can buy vegetables, fruits, drinks, clothing and more. The market sees some 18,000 shoppers on weekdays.
In the busiest period around year-end and New Year's, fugu (puffer fish) and other ingredients of the season jostle for shelf space, and special events like Saimatsu Shaonsai, a year-end festival of thanks, are also held.

| | |
| --- | --- |
| Address | 2-4-1 Nipponbashi, Chuo-ku, Osaka-shi, Osaka |
Night Spots

Osaka stands shoulder to shoulder with Tokyo when it comes to night life.
Kitashinchi
With everything from little cookshops, gastronomy spots, bars, and night clubs, this is one of Japan's most representative top-rank food and drink malls and certainly bears comparison with Ginza in Tokyo. Choose a meal to fit your budget, then relax at a bar and enjoy Osaka's night life.
Just an 8-minute walk south from Osaka Station.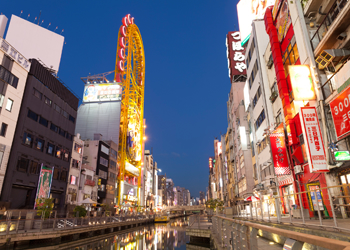 Namba
This lively entertainment district is one of the most "Osaka" spots in Osaka, and is crowded with people coming and going way into the night.
There is a whole range of izakayas, bars and eateries where you can enjoy okonomiyaki, takoyaki, yakiniku, nabe and just about anything else.
It's about 10 minutes to Namba from Umeda Station on the Osaka City Subway Midosuji Line.